Mathematics
Subject Ethos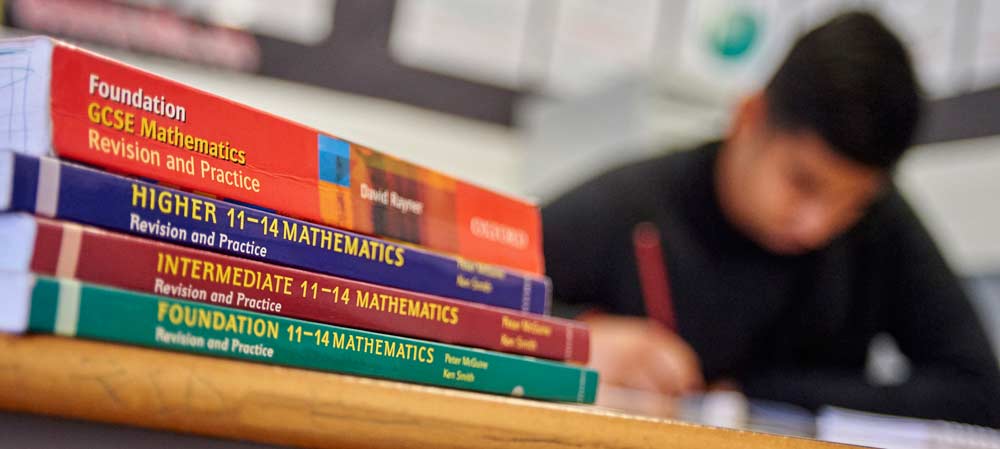 Our vision and ethos:
To help students understand mathematics as a universal language and in our world around us.
Goals and Objectives:
We encourage our pupils to explore mathematics as a form of self-expression and instil a sense of wonder around the history of mathematics. Pupils develop a sense of fun in using mathematics as they see the usefulness of applications of mathematics in everyday life situations.
We aim to equip pupils with the mathematical knowledge and skills for critical thinking and problem solving as well as provide pupils with equal opportunities to learn mathematics accordingly with their needs and prior achievements.
We provide a safe learning environment that encourages pupils to participate and respond.
Key Stage 3
Year 7 & 8
Course Description:
A variety of resources are used to support students' learning. Investigative and practical approaches are used in all groups in order to inspire curiosity, independent learning skills and functional skills.
Course Outline:
All groups cover work that is arranged into 6 topic areas:
Number; Algebra; Ratio, proportion and rates of change; Geometry and measures; Probability and Statistics
Our SOL is extensively derived from the SMILE resources along with its matrix and network.This allows us to quickly fill in any gaps in pupils learning whilst making progress with other topics at various levels all at the same time. Pupils are encouraged to reinforce their learning with available texts, 10 ticks worksheets, 'mymaths' and other websites as well as using a wide variety of kinaesthetic resources.
Key stage 4
Year 10
Year 11
Year 9, 10 & 11
The aims and objectives of the Level 1/Level 2 GCSE in Mathematics are to enable students to:
develop fluent knowledge, skills and understanding of mathematical methods and concepts
acquire, select and apply mathematical techniques to solve problems
reason mathematically, make deductions and inferences, and draw conclusions
Comprehend, interpret and communicate mathematical information in a variety of forms appropriate to the information and context.
All groups continue to complete work arranged across the 6 topic areas outlined by the DFEE: Number; Algebra; Ratio, proportion and rates of change; Geometry and measures; Probability and Statistics
In Year 11 all pupils sit a mathematics GCSE exam which is 100% content based. There is no coursework.
Exam Board: Edexcel
Exam Title & Reference: Pearson Edexcel Level 1/Level 2 GCSE (9–1) in Mathematics (1MA1)
Outline of Course:
written papers: each contributes 50% of the final grade
Tiered papers; Paper 1F and 1H: Non-calculator;Paper 2F and 2H: Calculator; Paper 3F and 3H: Calculator
The content outlined for each tier will be assessed across all three papers
Foundation Tier grades 1 - 5
Higher Tier grades 4 - 9
1 hour 30 minutes (All tiers)
80 marks on each paper
Link to further information